One GALLON Tire n TRIM by DualPolymer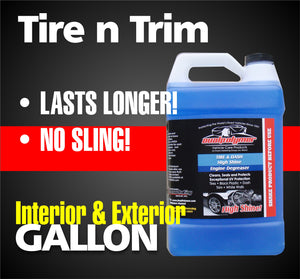 NEW FOR 2022!
NO SLING, LASTS LONGER, SMELLS JUST LIKE OUR WATERLESS!
Our Tire n Trim dressing is a little different... it restores plastics and rubber to it's original luster, drys non-greasy. Can also be used to remove brake dust and as an engine cleaner and degreaser.
See Over 4000 Customer Loaded pictures, videos and reviews at www.DualPolymerNation.com