DualPolymer ACRYWax Maximum Protection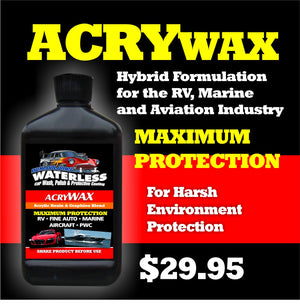 PRESERVE GLASS Like Feel and Slickness.
On your Fine Car, RV, Boat or Aircraft
When you want MAXIMUM 12 month protection.
ACRYWax is a blend of of our acrylic polymer resin and graphine.  It is designed to protect from extreme environmental factors for 8-12 months.  Can be maintained with DualPolymer Waterless with any damage to the coating.  Protects against UV, Salt water environments, nothing is better or easier to use.
Instructions:
• Start with a clean car
• Optional:  you may want to perfect the surface using our ClaBAR product, 
• Apply with a clean microfiber rag in moderate temperatures.
• Allow to completely haze
• Buff to an awesome shine and feel.
To maximize life of the coating you can apply a second (stacked) coat 48 hours after the initial application.